Why don't people automatically leave one turnstile open for those who need to swipe in?  Today, I missed my train because of this.  I'm pretty sure it's smart and considered courteous to do such a thing, but maybe we expect too much of the world.
I wonder the same thing when older people and women with bags are left standing on the train while younger guys sit there.  Maybe I expect too much, but I know that back in the old days, it was gentlemanly to give your seat up to  your elders and those in need.
When is a Target store coming to Manhattan?  There's one in Brooklyn, Queens, and in the Bronx.  Why isn't there one on 42nd Street [where they love to advertise]?  It has confused many and wasted money on train fare.  Maybe Target wants to lose money to Duane Reade and every clothing shop in that area.  
They look comfortable and I've been wanting some low-rise straight legs for about a year.  I'm
usually
ahead of the fashion scene.  My favorite looks recently have been girly pinks combined with semi-loose denim and bold sneakers.  Here are some examples: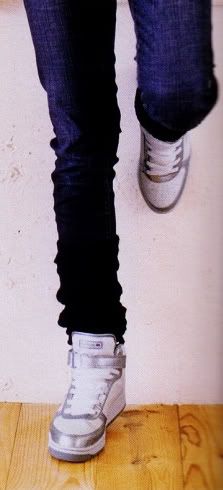 This style's not TOO popular in the US yet, though I've seen more girls dressing TOTALLY like guys [it's very awkward, you end up staring, trying to figure out whether they're a girl or not].  A mix of both is very cute IMHO.  
Well, I'm all talked out, so ♣ PEACE! ♣
♣, Chotpy